The right remote work tools can save you a lot of time and effort.
These include the most suitable tech hardware, home office equipment, digital programs, and access to certain Web platforms for your specific duties.
Now, these solutions can significantly improve your productivity, both for your professional and personal activities.
Work From Home Tips for Increased Productivity During the Quarantine  (July 2020 update)
Getting used to the work from the home environment has been shown to increase production, but only when remote employees are properly trained and company policies and guidelines are in place for those employees.
Work from home jobs became increasingly common during the coronavirus quarantine, as more than 25 percent of the population of the world was forced into lockdown and self-isolation. If there is any consolation, it is that the work from home tips during the quarantine will also work in the new normal and the digital age.
Mastering the ability to work from home provides a great many benefits for both the employees and the employers and more people than ever before are actively seeking out remote employment opportunities.
In their 2018 Remote Work Statistics Survey, TalentLMS says the top 3 tools that respondents use are for communicating with their colleagues and peers.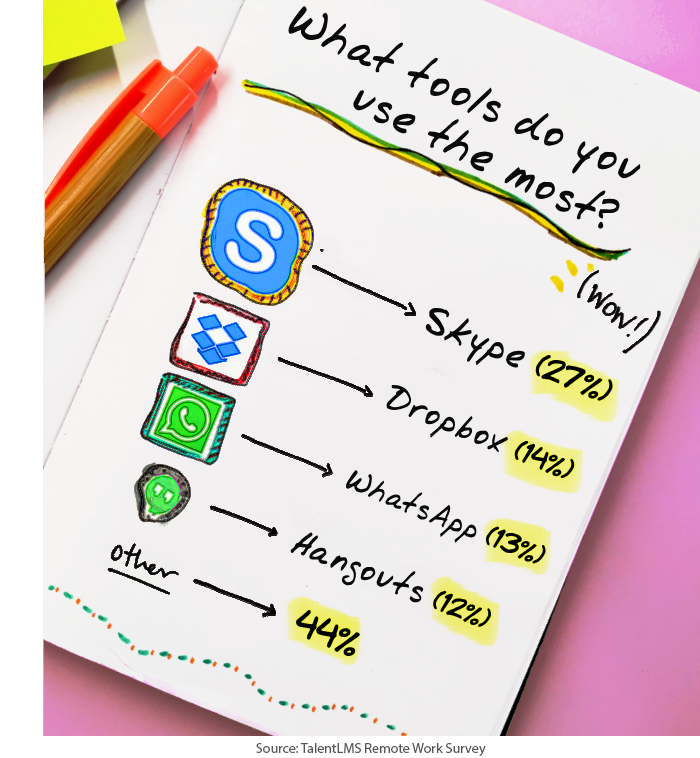 Meanwhile, cloud file-sharing platforms and collaboration programs are in positions 4 and 5, respectively.
Also, this applies when you're an employer with a virtual workplace.
The ideal equipment and tools for your off-site staff and in-house personnel can optimize your back and front end systems for your day-to-day business activities.
In turn, this is known to promote employee engagement across your virtual and on-site teams.
For example, this 2017 Forbes report says, "A Harvard Business Review research study found that 87% of remote workers feel they're still connected to their employers through video conferencing."
So they're saying that video chat programs and most likely other communication tools make nearly 9 out of 10 off-site workers feel more engaged as they work remotely.
Plus, there have been several recent studies that seek to find if there's a correlation between remote arrangements and workforce productivity.
And, it turns out that more than a third of virtual employees say they're more productive when they work off-site, as opposed to their daily output while working as in-house staff.
But there's just a huge diversity of devices, platforms, and apps for effectively performing various business activities through a virtual workplace.
While remote work has opened up infinite possibilities, it has also led to an increase in data breaches. If you're in Southern California, working with offsite data storage companies like Corodata can prevent these breaches from occurring. Such preventive measures can give you the peace of mind that comes with knowing that your data will be protected in special security vaults at all times.
So let's first take a look at which remote tools are being used by a greater majority of off-site workers all around the world today:
Widespread Adoption of Popular Remote Work Tools by Numbers
In 2017, this report indicated that more than half of businesses in the USA with virtual workforces regularly used Skype as their primary digital communications tool.
Skype is a free, P2P (peer to peer) video and audio chat program for desktops, laptops, smartphones, and mobile devices.
But there's also a premium version for enterprises, which is called Skype for Business.
Next is Slack, with a whopping 45% market share that year.
Slack stands for "Searchable Log of All Conversation and Knowledge."
It's a Web-based collaboration and community management platform for desktops, laptops, smartphones, and mobile devices.
Plus, there are free and premium plans for Slack to suit the particular needs of any team.
Meanwhile, let's move over to device platforms.
So from the 3rd quarter of 2018 and 12 months down to 2019, more than half of all Internet users worldwide primarily use smartphones for many of their daily work and personal activities.
And it's still over a 40% market share for desktops globally, though it's just 3% for tablets and other mobile devices.
Now for the different categories of these remote work tools.
And later on, you'll be learning all about the top 17 virtual workplace programs this year.
So let's start!
Categories of Today's Most Widely Used Remote Work Tools
Video, Voice & Text Chat Applications
These software products are designed for desktops, local and remote servers, smartphones, and other mobile devices.
They allow users anywhere in the world to use any of these devices and an Internet connection or a VoIP (voice over Internet protocol) gateway to communicate with each other.
These run on a variety of platforms like Microsoft Windows, Linux, Mac OSX, iOS, Android, Windows Mobile, and others.
Many of these tools are integrated with video chat features and media sharing functions.
Voice and text chat are also mostly available.
But some offer screen sharing and remote control functions, which enable users to collaborate in more ways remotely.
Task & Project Management Platforms
These offer an assortment of features that can help you with your task and project management needs.
Your virtual workers and in-house staff can use these to upload their work, and also to view, edit, and comment on the output of others in the team.
They're also provided with ways to conveniently track work output submissions and changes, monitor inputs from others, and share multimedia content.
These digital applications are often served as SAAS (software as a service) tools.
What this simply means is, users can access the premium features of these platforms through registered accounts.
They can use their Web browsers or downloadable client programs and apps.
Also, these are usually implemented with compatibility support for the latest versions of widely used desktop and mobile browsers like Google Chrome, Mozilla Firefox, Microsoft Edge, Apple Safari, and others.
File Organizers & Cloud Storage Tools
Using chat programs can be quite difficult, especially when we're talking about tracking file shares and organizing conversations to create easily viewable reports.
So these file organizers and cloud storage programs offer more convenient ways to organize, track, and share multimedia files and documents.
And that's why many remote workers and on-site employees regularly use these tools for their day-to-day activities at their jobs.
They mainly use these applications for uploading and downloading multimedia materials and documents, instead of the file-sharing features of chat applications.
For this purpose, these tools can also be a lot more convenient than email.
And the primary reason for this is the restrictive file size limitations of many email providers today.
Productivity Software
Now, this is a rather diverse category of remote work tools.
These productivity programs are specific to the work-related duties, responsibilities, and obligations of a virtual worker.
This means the type, brand, and version of these digital products primarily depend on how your off-site staff uses them, and also on why they need these tools.
For example, common productivity applications are Microsoft Office programs like MS Word, Excel, and PowerPoint.
There are versions and other brands of these office tools for Mac OSX, Linux, iOS, Android, Windows Mobile, and others.
These are often used by a variety of remote teams and virtual workers, even if they have different roles and job descriptions.
To clarify this through a common use case, a remote or on-site administrative assistant frequently uses these tools, but an off-site or in-house graphics designer is also expected to use these for embedding photos and doing layout work, among others.
Meanwhile, the productivity tools that a software programmer or Web developer needs are quite different from other types of virtual and on-site workers.
They need source code compilers, interpreters, libraries and modules, virtual environments to simulate test use cases, application development tracking programs, and so on.
So this is how these productivity programs can greatly vary with each of your remote employees and in-house personnel.
Time & Performance Tracking Applications
These digital programs can greatly help team leaders and managers.
They can carefully evaluate the results of business activities and campaigns.
Many already use these tools to pinpoint production bottlenecks and problem areas that negatively affect their employee engagement optimization targets.
These can also provide them with more ways to identify team building activities and work output feedback and improvement pipelines that are working well for increasing the morale and the productivity of their in-house and off-site employees.
Time and performance tracking platforms are embedded with features that can enable your virtual workers and on-site staff to log their activities and work outputs as they perform their duties.
Some of these tools are designed to take snapshots of their screens at random intervals during the time they're logged in.
These can allow you along with your team leaders, managers, and executives to access an organized set of daily, weekly, monthly, quarterly, and annual logs.
You and your staff can then perform careful analytics to significantly optimize your back and front end systems, workforce management strategies, and productivity targets.
This can also make it quicker and simpler for you to implement more accurate adjustments and immediate changes to your work pipelines, sales, and marketing campaigns.
Digital Marketing & Social Media Tools
We believe these tools should have their category than to flag them right off the bat as productivity programs.
That's because many of these digital marketing applications and social media tools are often used by almost all off-site workers and on-site employees of most businesses today.
For example, lots of companies are using private Facebook and LinkedIn groups for their staff.
This is mainly to foster a more casual community where their remote and in-house employees can communicate with each other and share news and others that mean a lot to them.
Most of their employees also go to the blogs and websites of these businesses to keep themselves updated about the latest news in these organizations and to contribute their insights and comments.
Plus, these sites and social media apps are effective ways to send out instant alerts and notifications to your team leaders, executives, managers, virtual workforces, and on-site staff.
After all, it's highly likely that significant numbers of them are regularly spending a lot of time each day on these platforms.
More so, a lot of them are already familiar in using the communication tools, commenting and sharing functions of these apps and platforms.
So these are the top 6 categories of the most widely used remote work tools this 2019.
And now let's move on to 17 of the most significant virtual workplace programs today.
We tested and reviewed 2 to 4 of the most popular ones today under each of these six categories.
Top 17 Remote Work Tools of 2019
CATEGORY: Video, Voice & Text Chat Applications
Skype — As mentioned earlier, this is the most widely used chat application across lots of virtual worker groups and remote freelancing communities all around the world today. More prominent companies and enterprises use Skype for Business. But most small businesses and new organizations use the free version of Skype while they're still scaling up their operations. This allows users to go on 1-on-1 or 1-to-many video, voice, and text chat sessions. Screen and file sharing features are also available, along with auto-translation functions;
Slack — This is a Web platform that isn't just used for video, voice, and text chat conferences by virtual employees and on-site workers. Instead, it's also a more casual environment where businesses can build and nurture communities of their employees, team leaders, managers, and executives. Multimedia file-sharing functions and conversation log tracking are also integrated into the desktop, mobile and Web browser versions of this application; and
Google Hangouts — This is another Web app that's quite popular among remote employees and in-house workers, especially teams that use Slack. That's because you can conveniently initiate multi-user video conferences from within Slack. It's also implemented with screen and multimedia sharing features, aside from compatibility support for many desktop and mobile Web browsers today.
CATEGORY: Task & Project Management Platforms
Asana — This is a Web app, and it's also the most popular task management and remote team collaboration tool today. Your team leaders and managers can use this to set, edit, and manage tasks. They can also monitor the activities of their teams and track changes to documents, work outputs, conversations, and the like. Meanwhile, your remote and on-site resources can collaborate on these tasks by sharing their work outputs, comments, and inputs, and also by editing or making changes to the work of their colleagues.
On the other hand, you and your executives can use this tool from anywhere to instantly know what each of your teams is currently working on at any moment; and
Trello — Another widely used Web tool for remote team management and collaboration, many managers and virtual workers say they especially love the clean and simple to operate design of this Web tool and its mobile app. Using Trello, your managers and team leaders can assign tasks and monitor the activities and contributions of your on and off-site employees with ease. They can also track changes and make edits, among other things to any queued task. Plus, you and your executives can log into this platform or use the Trello mobile app anytime, anywhere to instantly know the status of on-going tasks.
CATEGORY: File Organizers & Cloud Storage Tools
Dropbox — This is an easy to use cloud storage tool that's used by thousands upon thousands of freelancers, remote employees, on-site workers, team leaders, managers and executives for their file sharing and tracking needs. A lot of individuals all around the world also regularly use this for their activities. Premium plans for businesses and enterprises are also available. These offer much bigger data storage space and additional functions like automatic OCR (optical character recognition), which can be quite useful for converting photos of receipts, identity documents and so on into a searchable database of text documents;
Google Drive — This is among the most popular file organizers and cloud storage apps today. Its integration features with other widely used tools like Gmail, Google Docs, Zapier, and other productivity programs are the most salient benefits of this product, according to lots of remote workers and on-site managers. Also, this tool's easy to use search and sharing functions make it quick and easy for your teams to collaborate, track uploads and downloads of multimedia files and documents, etc. Plus, if you want more data storage capacity, then Google offers premium plans at reasonable prices; and
OneDrive — This is a product from Microsoft. Its desktop app is bundled with modern Windows platforms. There's also a version of this desktop app for Mac OSX. It's also available as a standalone Web app, or as a mobile app for iOS, Android and Windows Mobile. Lots of virtual employees and on-site workers use this file sharing and cloud storage tool as it already comes with their Microsoft Windows workstations.
CATEGORY: Productivity Software
Microsoft Office — This is still the most widely used suite of productivity applications for businesses and enterprises today. Bundled are programs like Microsoft Word, Excel, and PowerPoint among a few others. MS Word is a document processing tool, while MS Excel is a spreadsheet application. On the other hand, MS PowerPoint is for document presentations and slideshows, which are ideal for meetings and seminars. Aside from PCs, this suite is also available for Mac OSX, iOS, Android and Windows Mobile. Lots of remote workers and on-site employees continue to regularly use these tools today;
Adobe Photoshop — Documents, presentations, digital application interfaces, brochures, Web pages, and social media posts aren't complete without photos and icons, among other visual elements. A majority of freelance graphics artists and other virtual employees and on-site workers with similar roles use Photoshop for these purposes. You can create, edit and integrate graphical elements, icons, photos and images into documents among other multimedia materials and digital interfaces; and
Intuit QuickBooks — This is the most popular accounting, payroll, and taxation software today. Lots of freelance accountants, auditors, remote bookkeepers, and in-house accounting staff use this tool for their day-to-day work activities. It's available as a desktop app for PCs and Mac OSX, and its online edition is packaged as a mobile app for iOS, Android and Windows Mobile. Also, its Web app can be used through modern desktop and mobile browsers; and
Python Interpreter — As its name implies, this is an open-source interpreter that supports Python, which is among the most popular programming languages today. A primary reason behind the massive adoption of Python by lots of businesses across several industries and niches globally is its quick prototyping results. Also, the rapid growth of data science, machine learning, and artificial intelligence make Python a worthwhile endeavor for your technology development campaigns. That's because you can create internal tools and new products that are powered by these innovative technologies. Plus, thousands of libraries, modules, scripts, and open source projects in Python are freely available, which are backed by a huge developer community.
15 Best "Must Have" Android Apps For 2019 To Get The Most Out Of Your Smartphone
CATEGORY: Time & Performance Tracking Applications
Time Doctor — This is the most popular employee performance management and tracking program today. This is available for Microsoft Windows PCs, Linux and Mac OSX computers, Chrome OS, iOS and Android devices. Aside from time and activity tracking, it also takes random screenshots while your virtual and in-house teams are doing their work. You can get detailed reports, including information about video, voice and text chat sessions, frequently used apps and websites, among others;
ScreenMeter — This is a desktop application with editions for Microsoft Windows, Mac OSX, Chrome OS, and Linux. It's a widely used tool for tracking time and activity logs of remote and on-site employees as they do their jobs each day. A unique feature of this software is that it can work even if the machine where it's installed doesn't currently have an Internet connection. It'll continue to take time and activity logs as well as random screenshots while it's active, and will automatically upload them to a secure database once the machine is connected to the Internet. You and your team leaders and managers can then generate reports from these time and activity logs;
CATEGORY: Digital Marketing & Social Media Tools
WordPress — This is an open-source CMS (content management system) for sites, blogs, and Web apps. It's the most popular CMS today, thanks to its intuitive design that even users with beginner to novice technical knowledge would likely find it simple to operate. Plus, it's fully customizable and conveniently extensible, thanks to hundreds of free, open-source and premium WordPress themes and plugins. More so, a huge global development community continues to amass helpful knowledge resources that can serve as a learning, troubleshooting, and support guides and manuals. Your team can even develop their communication and collaboration platforms with remote work pipelines through WordPress, certain themes and plugins;
Facebook — More than 2.3 billion people all around the world hang out in this social media platform each day. They also offer employers, managers, and team leaders with the ability to create private groups and communities that they can use for their team building and management needs. It's likely for your newly hired remote and in-house resources, especially those who aren't quite tech-savvy enough, to still be familiar in using this platform. So they can access the messaging and collaboration tools of this platform for their day-to-day communication and multimedia sharing tasks, with minimal issues if at all. They'll also get instant alerts and notifications as their managers and colleagues post important stuff in their private groups; and
Hootsuite — This is a social media management tool. Its features can help optimize the marketing and advertising campaigns of your business across the most popular social media platforms where most of your ideal viewers and target customers hang out. This puts all your social media pages, posts, and messaging conversations in a unified, simple to operate dashboard. Your team leaders and managers can use this to know the performance and results of what your remote employees and in-house staff throughout your community engagement and social media marketing departments are currently doing.
How to Strategically Use the Most Suitable Remote Work Tools?
Knowing this list of the top 17 remote work applications today won't be enough.
That's because you initially need to identify the ideal ones to use for each particular situation in your business.
Plus, you need to study the exact remote and in-house work pipelines that your business uses for your current campaigns.
Doing all these things can allow you to maximize the benefits of this list that we prepared for you.
And to help you generate creative strategies and tactics to successfully use these tools — Here are some of our recommended use cases for these applications:
One
Limit video chat sessions as much as possible, especially if you have remote workers in developing countries with below-average Internet connection speed and bandwidth options.
Instead, schedule weekly video meetings with them.
You can just ask them to go on voice conferences and chat sessions with your team leaders, managers, and other personnel at fixed time slots each workday.
Plus, you can ask them to communicate through email and text chats to schedule urgent video appointments or voice calls, in case these can better help them resolve some unforeseen issues.
Two
Choose the most robust apps with online features that offer the quickest, most reliable connectivity for your remote workers.
As you use many of these remote work tools, you're likely to notice that some are much faster than others in certain countries and regions.
That's because almost all of these Web apps and online platforms need to integrate with server programs that are hosted in data centers across particular geographic locations.
Simply put, an app's server program might be hosted in a country that the providers of your virtual workforce can't rapidly establish a reliable connection.
Three
Provide your off-site staff with licensed versions and secure accounts for your apps and platforms.
Remember, cracked or pirated software products are likely to have tampered source code.
These might expose not just the devices of your remote workers, but also your private networks and databases to security risks and privacy breaches.
Don't forget that they share multimedia files and access your Web resources regularly.
So these tampered applications might be capable of injecting malicious code into the content that they share with your other employees, or it could transmit backdoors to your Web servers and private networks.
More so, a few of your virtual employees might want to save money by simply downloading these cracked and pirated programs.
Now it's likely better to give them the licensed versions and authenticated accounts, instead of giving them funds to purchase it.
Four
Develop well-crafted data security protocols for your business.
Keep in mind, 225 out of 250 CEOs, ICT managers, and business leaders said in this 2018 OpenVPN survey that remote workers pose more serious cybersecurity risks than their on-site colleagues.
This is primarily because of how the smartphones, mobile devices, computers, and remote work programs that they use for their remote workers aren't managed by cybersecurity experts and technical teams at their office premises.
Many of them install all kinds of applications from a variety of sources, connect to unsecured wireless hotspots even when they're still doing their work and use the same passwords for the private databases and servers of the business.
So it's likely in your best interest to not just implement effective security policies, but to also ensure that you have formidable counter-checking measures to avoid potential problems.
Five
Consider giving your virtual workers access credentials for an effective VPN (virtual private network) server.
This is a quick and efficient solution for protecting the devices and applications of your remote staff against malicious programs and hacker attacks.
Don't forget that almost all of the remote work tools your virtual workforce needs to use regularly are integrated with Web access features.
So these applications and platforms are susceptible to malware infections, backdoors, and illegitimate access.
Now a VPN server account allows them to use their ISP to connect to a secure server in a remote location.
When they do this, then all inbound and outbound traffic goes through this secure server before reaching their devices, your private databases and servers, and the remote resources that these apps use.
Meanwhile, this filtering process is equipped by your VPN service provider with enterprise-grade cybersecurity protocols and data security measures.
But of course, you need to choose the right provider, as with any other solution that you want to acquire.
Six
Always use 2FA (Two-Factor Authentication) in these apps whenever it's available.
Cybersecurity risks are more prevalent with a virtual workforce, according to 90% of 250 business leaders, managers, and corporate executives in the USA.
This is also the main reason why many of the firms that developed these remote work apps and tools are implementing security measures into their products.
And a formidable feature that continues to secure a lot of Web apps, desktop tools, and mobile apps is 2FA.
This is where a user's device integrates with a third-party mobile app like Google Authenticator.
Once the user's device is registered for 2FA in a certain remote work tool, then the user will be asked to enter a unique code before being allowed to use the app.
Users then need to go to the third party 2FA tool to retrieve the unique code, or sometimes from their email inbox in case no third party app is used.
Seven
Train your virtual staff and in-house workers to use these remote work tools.
Of course, it's quicker and more straightforward if you hire resources with significant experience in using the remote work tools that your business needs.
But it's highly unlikely for many qualified job seekers to have already used the exact list of applications and platforms that you want them to use.
That's why you need to ask your workforce trainers to create instructional guides, manuals, and short modules for this.
Also, don't forget to document your training sessions in video.
You can then develop these into much better training materials that you can then use for newly hired remote workers and in-house personnel.
It's also an effective strategy to allow your off-site staff and in-house resources to access these materials anytime they want.
Plus, allowing them to provide their comments, insights, and suggestions can provide your trainers with useful details for further optimizing these guides.
Eight
Equip your remote workers with device and platform troubleshooting knowledge.
US-based remote work software firm TimeCamp said significant numbers of virtual workers don't possess proper technical knowledge and experience in fixing issues with their devices, platforms, and apps.
This can present a lot of dependability issues and project completion problems for your business, primarily if you heavily rely on your remote employees to fulfill their tasks and responsibilities daily.
Remember, backlogs and delays can lead to lost client contracts and customers.
Plus, if you don't provide your remote workers with home office equipment, then they're likely to use the computers, smartphones and home office devices that they already have.
Now, these can often be susceptible to slowdowns, freezes, and crashes, especially when they aren't familiar with how to freshen their machines before starting to use it for their virtual jobs.
Worse, this can introduce certain security risks and malware programs to your private databases and networks.
So you're advised to again ask your trainers to provide them with simple to follow troubleshooting guides for the most common problems and security issues today.
Just remember to identify the platforms and devices that your remote workers use for their work-related activities.
This way, your trainers can create materials that are aimed at these particular brands, versions, and models.
---
So keep these eight recommendations in mind.
Do this before starting to identify the most suitable remote work tools to use for your virtual workspace and in-house operations.
This way, you'll be able to avoid problems before they happen, saving you a lot of time and money in the long run.